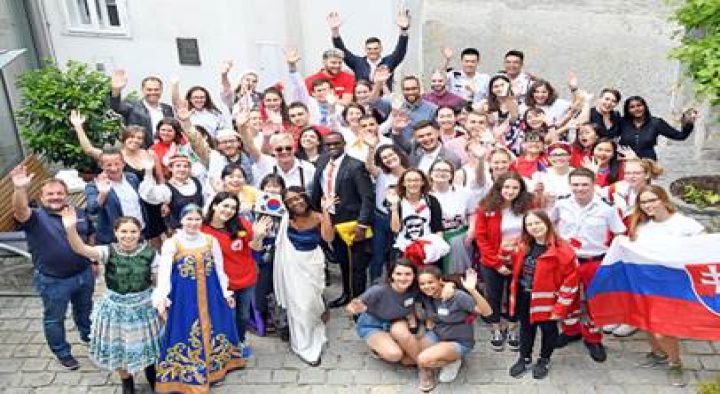 64th International Study and Friendship Camp 2019
Date: 8  – 22 July 2019
Venue: Vienna, Austria
Organiser: Austrian Youth Red Cross 
Representative: Mr. Jordan Hu (MRC Sarawak) and Mr. Lee Van Can (MRC Sarawak)
This camp took place in Vienna, Austria from 8th to 22nd July 2019. My friend, Mycan and I are the ones who were chosen to represent Malaysia to attend this international camp. I was assigned to a triple-sharing dorm room at the camp, I have two other roommates, one is from Vietnam, and the other person is from Ireland named Evan. Three of us got along well and we've get to know each other better throughout the two weeks we spent during camp.
National PUB
National PUB is one of the activity that is held on most of the evenings. This activity is mainly for each and everyone of us, who are from different countries to get together, to share our  backgrounds, culture, heritage and so on. There are dances, cooking sessions, games and more for the campers to participate, in a way that it gives us chance to learn more about the other countries. Throughout all the sessions of national pub, I have had the chance to learn Russian dance, Korean language, and also learnt how to cook various countries' food.
Information Groups
Information group is one of the activity that usually involves talks from various speakers. The topics that we have touched are "Cross Cultural Competence", "Exploring Humanitarian Law", "Introduction to Mauthausen", "Cybercrime", "history and Principles", and lastly, "Disaster Relief and Emergency Response Unit". The most memorable one for me will definitely be "introduction to Mauthausen". This topic was lead by Philipp Pechhacker, he talked mostly about the history of the concentration camp of Mauthausen during the WW2, and we briefly discussed about the impacts that the concentration camp brought and how it has effect the society nowadays.
Among all of the information groups, i find this one more eye opening and it really was a big part of the history and the fact that it the issue is still relevant until today.
Special Interest Groups
Special interest group is one of the activity that is held for each and ever camper to participate in effort to put together the Festival of Nation. At the beginning of the camp, each of us are asked to choose among 4 different areas that we can participate in, which are Media, FON preparation, creative arts and dance. Every group have different responsibility of their own but at the end of the day, all our efforts will be put together and be presented on the night of Festival of Nation. I chose to be on the preparation group because i thought that out of all the groups, i will be able to do best in preparation for the Festivals of Nation.
World Fair
World fair is the sharing of every country about their Red Cross/Red Crescent society. We are told to present our thoughts and knowledge of our Red Crescent society on a poster. Before going to Vienna, we had already prepared all the required material and information, so doing this poster was quite an ease for us, as we were already prepared and had everything we needed. I was in charge of the poster about introducing Malaysia, while Mycan was in charge of doing the poster of presenting our Red Crescent Society of Malaysia.
Festival of Nation (FON)
Festival of Nation was held during the second last night of the camp. This was one of the most important night of the camp because the representatives of the Red Cross Delegates were invited to attend this festival. On this night, each country will get a chance to present their country in their own ways, either through a song, a dance or anything creative that we want. As for Mycan and I, We decided to do a Malaysian traditional dance. The reason why we decided on this is because we think that our Malaysian dance is very unique and it would give a glimpse
of how special Malaysia is to others. Mycan and i also wore Traditional costumes on that night, I wore Baju Melayu while Mycan wore the traditional costume of the Bidayuh. Besides presenting our dance, we also prepared a famous Malaysian dish, pisang goreng. Mycan and I worked very hard on this dish to make sure everything was on its top notch, even though the process was tiring, having to serve 100 people, we still managed to do it and I can't deny that we had fun throughout the whole cooking process too. We were very proud of our dish when we got many good reviews from others, saying that it tasted very good.
Excursions
Excursions are the outdoor trips we take to visit the places of Austria. All together we went for 4 Excursions which includes Vienna, Mauthausen, Melk and Burgenland. I must say i had the most fun when we went to the wine country. At the wine country, we get to taste different kinds of wine and also get the experience the serenity and atmosphere of the countryside, it was a very relaxing experience and the one that i will never forget. Besides that, we also went to the capital of Austria, Vienna. Vienna was truly breathtaking, and the atmosphere is really different than in Malaysia, the architecture was really beautiful and the people there was friendly as well. We spent half a day in Vienna and it was really worth our time to tour around the city of Vienna. While in Mauthausen, We visited one of Austria's concentration camp. The concentration camp is now a place for tourist to tour around but it still held its own dark history. Having the chance to visit one of the concentration camp was really an out of the world experience for me.
After spending two weeks in Austria, we finally departed from Austria to Kuching on the 22nd July 2019. I must say, after spending two weeks in Austria, with such great companions along the journey, I really do miss that place, especially the friends that I have made there. Being away from home wasn't easy on me in the beginning, but as I open myself up more, I begin to see the beauty and the purpose of this trip. I feel that by joining this camp, I had open myself to so many doors and opportunity, and it has taught me so many things that I would never learn if i didn't went. I am very grateful to have gotten this opportunity to be in this camp. This camp is truly one of the best memory that I will forever keep in my heart.